Last week,
I mentioned
that we would have a very special guest curator joining us this week for
the Etsy shop
. It's now time to spill the beans and unveil the surprise! Bay area blogger, writer, vintage aficionado and awesome friend,
Christina Martinez
, has put together a special vintage collection for the
Mousevox Etsy shop
straight from her closet to yours!
First, let's get to know the girl behind the clothes who once wore them as her own...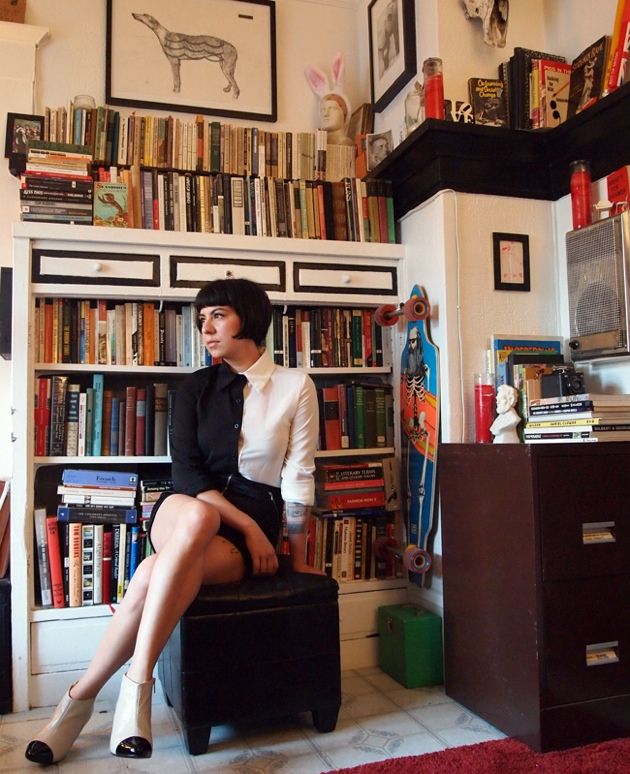 MV: Who is Christina Martinez?
CM: Christina Catherine Martinez is a writer, a style blogger, a student, a Mexican, a cusser, a haver of large scars she is learning to be proud of (this is not a metaphor), an ex-shoplifter, a ponderer of hats, and a person who sometimes thinks too much about her potential legacy to take care of the task that is right in front of her (the Library of Congress is archiving all of our tweets, you know) ... Alternately a bundle of shyness and a horrifying absence of inhibitions.

I can't believe you made me say that in the third person.
MV: Describe your personal style & what inspires you.
CM: On a strictly formal level, I tend to go for graphic patterns and simple silhouettes. My wardrobe mainly consists of crazy printed skirts and blouses that I pair with black or grey separates. Sometimes I go for a little print-on-print action. Lots of dresses, lots of tights. I think a white ankle sock is a good touch for just about any outfit. I really love texture—I'll wear black patent anything, and am currently on the hunt for a marabou-feather jacket that doesn't cost eleventy-billion dollars.

I try not to get too caught up in abstract notions of dress that don't translate in the real world, but I do read a metric fuckton of fashion blogs. I like seeing pieces similar to my own in different contexts, or styled in a way I wouldn't have thought of. Good sartorial inspiration makes you excited about the possibilities of the things you already have—if looking at blogs makes you want to buy stuff than it's just a consumer activity. I'm sure movies and books are constantly sneaking in under the radar. Looking at art is always a good idea. More often than not I'm inspired by people I see on the street; elderly Chinese women mix prints that would make your Tumblr-loving head spin. The old guys that hang out in front of Day of the Dead Café. My mom. Awkward teens on the bus. You have to leave room for error–the things we don't account for are often the most charming. Sometimes I think the incidental is the only real indicator of the authentic.
MV: What is your dream date?
CM: Oh, probably very boring. There is really only one dream date anyway, and it's centered around that universal frisson of romantic tension. I think what we're really talking about when we talk about a Dream Date, whether it's white water rafting or a leisurely stroll around the flea market, is the energy of an absolute but unspoken confidence in your mutual affection. The vision of the Dream Date will often involve some sort of charged brushing of hands... the context is irrelevant.

That said, if Rob Corddry wanted to build a train to the moon with me and brush hands in holy matrimony, I would not be diametrically opposed.
MV: What book, fiction or non-fiction, do you most relate to on a personal level?
CM: I haven't read it in a while, but "The Seas" by Samantha Hunt resonated quite strongly. It's all about loneliness, impossible affections, and what GK Chesterton called "the unconscious gravity of being a girl." Deep down I'm a Very Serious Person, but I have a hard time expressing myself seriously, so I love good fiction that is unabashedly dark and romantic. Edith Wharton is one of my favorite authors. When asked to describe me in terms of dessert, an ex of mine said that I am like a gingerbread house filled with black liquorice. What a dick.
MV: If you could commission any artist to produce a portrait of you, who would it be & why?
CM: I would have to say Chuck Close, because his portraits are of a megalomaniacal scale that I feel quite suited for, because he's honest, and because I would just love to spend time with him.
Without further ado, here's a peek at
Christina's
vintage picks for Mousevox. I'll be listing all of these in the
Etsy shop
throughout the day, so be sure to peek in and grab something up if it tickles your sartorial fancy!

Would you like to put together a collection for the shop & be featured on the blog, too?
Email me! I'll be happy to hear from you!